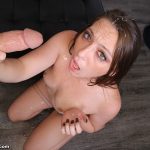 Its hard to believe that Taylor Pierce has never wanked off a dick before but its the truth. Her new boyfriend wants her to have sex with him and she badly wants to put on her best show for him so she approaches her step brother and asks him for pointers on how to rock in the bedroom. He's shocked she's such a newbie to the whole sex world and his world is even rocked further when she asks to practice on his dick. They're family which means they shouldn't cross this taboo line but Taylor is desperate so her stepbro gives in.
He springs his big dick from his shorts and then watches, first uncomfortably, as Taylor Pierce strokes it gently at first. The more she strokes it, the hornier and more comfortable they both get. Soon, they're so comfortable with each other than the brunette teen leans into her step brother's lap and starts feverishly tugging his rock solid prick. He's blown away by her handjob skills as this video from CumBlastCity.com shows. For someone who says she's never wanked a dick, she sure knows how to do it right!
She takes off her top and lets her perk tits air out as she wraps both her hands around the massive pecker. She's turned on by just how big the prick is and she can't help but moan as she tugs it really fast. Taylor Pierce is such a huge cum lover that she's hoping to make the prick burst with just her hands. She begs her step brother to nut all over her and that's exactly what he does! You should see the shock on her face as the avalanche of jizz rolls in her direction and eventually soaks her from head to toe.