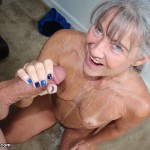 Leilani Lei is on a mission to find some salty man goo to splash on her face but she's in a tight spot because the only cock within a 20 mile radius is the one attached to her step son so she does the unthinkable by approaching him and begging him to cum all over her which he happily does but what the older babe is not prepared for is the amount of cum that shoots out of his erect penis at the end of his jerking off session. You can see just how much cum he unleashes upon her in this new episode of CumBlastCity.com
Desperate women know no boundaries and Leilani Lei is as desperate as they come. She hasn't had a cum bath in a while and badly craves feeling that slimey stuff sliding down her face so she approaches her step son about jerking him off in exchange for his creamy jizz and he happily accepts so the expert mature handjobber gets down on her knees and starts beating the lucky lad's hard meat for him.
She strokes his cock so well that he's ready to explode after just a few minutes of stroking so she slows down some and gives him time to recover and then she works him up again with her hands before letting him take over the reigns. Leilani Lei watches impatiently as her step son jerks his own cock using really fast strokes to make himself cum and when he does he aims right at her and covers her whole body with his salty jizz!