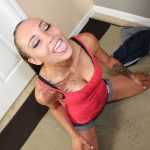 A face like the one Sasha Foxxx has is a national treasure that shouldn't be messed with and yet when Johnny hooks up with her in this episode from CumBlastCity.com, he simply can't help himself and he ends up jizzing all over her pretty face. The massive load of cum on her face actually enhances her beauty even more and as a bonus, the warm cream makes her skin silky and smooth which is what the tatted up brunette hottie wanted anyway. So in the end, both Jonny and Sasha get exactly what they want from their hook up!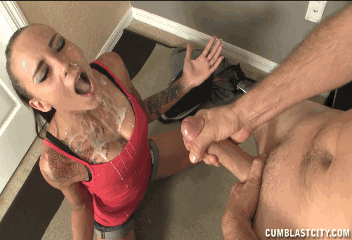 Sasha Foxxx likes to read, and like most people, she believes everything she read including the rumor that cum does wonders for the skin which is why she invites Johnny over to her place one evening. The scheming babe plans to seduce him, jerk him off and then smear his cum on her face and once Johnny gets wind of her plans, he has absolutely no objections. He actually eagerly pulls his pants off and lays back on the bed so Ms. Foxxx can start working on his dick.
The slender babe doesn't waste any time once she settles down on her knees in between Johnny's legs. She grabs his dick with her right hand and squeezes it while stroking it up and down. The more pressure she applies, the closer Johnny gets to orgasming and every flinch from his body lets Sasha Foxxx know that she's closer to bringing him over the edge which motivates her to jerk him off even faster. Her hard work pays off big time when Johnny aims his dick in her face and unleashes a monster load that drenches her whole face and body.