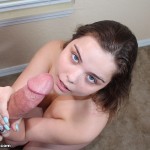 Cloe Palmer hasn't been giving her man the attention he deserves lately which is why today she decides to make time in her schedule just to give him her undivided attention. She figures the only way to make up for neglecting him is by jerking his cock and letting him cum all over her boobs and pretty face and she's spot on because he hasn't nutted in a while and is only too happy to shoot his load all over her body in this sizzling hot episode from CumBlastCity.com
One way to make a man forget what a bad girlfriend you are is by jerking his prick until you empty his nut sack and that is something Cloe Palmer intends to do since she's guilty of neglecting her man. She joins him on the bed where he's laying naked and immediately reaches in between his legs and starts stroking his cock until it hardens. Then the busty teen babe gets naked and continues with the POV handjob increasing the pace of her stroking with each tug.
This is the kind of attention her man deserves and needs and he moans out his approval especially when she gets down on her knees before him and strokes his now hardened cock while begging him to cum all over her. Of course she doesn't know that he hasn't had a release in a while and has a stream of jizz backed up in his balls and when he lets go, it all comes gushing out of his rod and lands straight on Cloe Palmer's big juicy tits and whole body. This is one insane cum bath this brunette teen hottie won't soon forget!