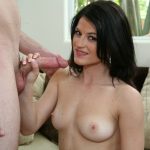 Aubrey Sky is a hot teen newcomer with an insane appetite for huge loads of cum. She hooks up with Jeffrey in this stunning scene from CumBlastCity.com because he's an older, more experienced man. She's hoping for a massive cumload from him but what she doesn't know is that he's legendary for his monstrous cum explosions. The horny guy doesn't let the teen in on his secret power and instead just chills back and watches her go to town on his big dick.
Stroking cocks is something this particular teen excels at. She knows what points on the dick to press to get the results she wants and that's true for Jeffrey's dick. He watches in awe as she effortlessly hits all his sweet spots with one stroke and when she gets completely naked and flaunts her tight little body in front of him, he has to fight back the urge to nut on the spot. The horny duo passionately kiss but Aubrey Sky's hands remain firmly glued to Jeffrey's prick.
She uses short and fast tugs to get his engines going then she kneels before him and continues massaging his big dick with one hand. Its quite the arm work out for the pretty teen nympho so when her right hand needs a break, she switches over and jerks the lucky older man off with her left hand. Aubrey Sky can feel him inching closer and closer to a release with each tug from her hands so she keeps the pressure on that big dick while positioning her body in such a way that Jeffrey nuts right on her body. When the big moment finally arrives, the fit babe isn't disappointed because Jeffrey lives up to his reputation by giving her an insane facial and covering every inch of her body with his creamy jizz!