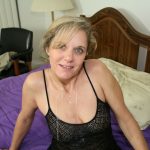 Be careful what you wish for, you just might get it. This is the case for Cami, a hot but nosy MILF who sneaks a peek through Joey's cell phone and upon finding his naughty porn videos, decides that she must have a piece of him in her. She's particularly impressed by the fact that the younger man shoots out bucket loads of cum and she wants him to shoot some all over her. Ever the nice dude, he agrees to shower her with thick creamy jizz as long as she's willing to extract it from his dick.
This particular MILF was made for cum extraction. In fact as this video from CumBlastCity.com shows, its something she excels at. So as Joey undresses, she pulls her long blonde hair back into a bun so it doesn't get in the way as she sucks Joey's dick. She then positions herself in between the lucky stud's legs and grabs his meaty prick which she greedily crams into her wide open mouth. She savors every inch of him but pays special attention to the pulsating head. Cami is smart enough to know that this is the area she needs to focus on to get the results she wants.
Sucking on the sensitive tip gets Joey closer to the edge but he holds his load back so he can continue to get that good tongue loving from the orally skilled MILF. Cami proves she's not a one trick pony by blowing the cock while also stroking it at the same time and in between all that mouth and hand action, she begs the young lad to cum for her. He hears her loud and clear because a few seconds later, he pulls away from her, aims his big dick right at her and soaks her in a coat of thick creamy jizz. She wanted it, she asked for it and she got it. Joey definitely lived up to Milf Cami's expectations!