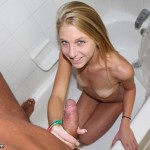 If anyone is going to interrupt your shower, it might as well be an older man with a massive boner dangling in between his strong thighs. That's the case for Chasity Bliss who doesn't mind getting her personal space invaded and private bath time interrupted when Mr. Johnson decides to join her for some bath tub fun in this new update from CumBlastCity.com
The sexy teen babe undresses and gets in the shower cherishing how good the water feels on her soft skin. She leans in and watches it flow down her perky small tits and flat belly but just as she's about to get lost in her fantasy land, she feels eyes burning into her bare skin and when she turns around, Mr. Johnson is standing there ogling her firm teen body. The naked teen and the fully clothed older man stare at each other, one in disbelief and one with eyes full of lust. Being the trooper who always goes with the flow, Chasity Bliss quickly gets over her shock and invites Mr. Johnson in to join her. She helps him out of his jeans and then slowly starts playing with his penis.
The blonde teen nympho stands behind Mr. Johnson in the shower pressing her tiny tits against his back and she reaches around and grabs his long dick with one hand jerking it really hard until his whole body stiffens with excitement. She then squats down in the small tub and looks up to the older man as she strokes his prick with one hand while steadying herself on the edge of the tub with the other hand. The slutty cum craving teen is so good at tugging cocks that it doesn't take too long for her to make Mr. Johnson cum and when he does, he splashes his creamy seed all over her sexy body.