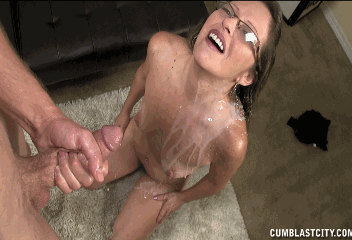 They say be careful what you wish for because you just may get it but clearly Nikki didn't get that memo, or maybe she did but she disregarded it because in this latest episode of CumBlastCity.com, the naughty cum craving brunette MILF begs for a big cum explosion and that is exactly what she gets. Of course her cum bath doesn't come without an amazing handjob first so sit back and relax as you enjoy this view of the sexy mature cum slut on her knees coaxing cum out of a prick with her hands.
Nikki finds her way in between Billy's legs with his boner staring directly at her and the inner whore in her simply can't resist latching on it. She grabs the base of that cock and starts pumping it's girth, getting off on feeling it throbbing in her soft palm. Then she undresses and resumes jerking Billy off as she shamelessly begs him to cum for her. He wants to give her what she wants but he also wants to enjoy the stroking for as long as he can so he withholds his load and makes her work for it even more.
Working hard for cum is familiar territory for this experienced older babe so she alternates between using slow and fast strokes and then she simultaneously rubs Billy's balls while jerking him and that seems to do the trick because shortly after that a stream of jizz gushes out of his cock drenching Nikki from head to toe.