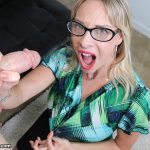 Talk is cheap and sometimes not the solution to a situation. Vicky Vixxx knows this so when Mike comes to see her because his dick is malfunctioning, the sexy therapist decides to wake his dick up with her own hands instead of letting her client talk it out. This is the kind of thing that could get one's licence revoked but this sex therapist doesn't give a damn. She's horny and she knows that Mike has a big dick so as this video from CumBlastCity.com shows, she puts it all on the line and her gamble pays off big time when her client nuts all over her!
Mike is embarrassed that his dick isn't working the way it should work. He's tried everything and nothing has worked which is how he ended up in Vicky Vixxx's office. The desperate man thinks that a few sessions with the hot babe is all it'll take to clear his problem but his dick has a mind of its own. It wobbles in his pants, catching the therapist's eye and in an instant she knows that a hands on approach is the best way to deal with Mike's problem.
She makes him comfy on the couch as she helps him out of his pants. Then one hand starts stroking the cock while the other hand sneaks down to Mike's big balls and fondles them. This babe isn't just easy on the eye but she's also a master cock stroker and she heals Mike of his problem with just a few strokes. His dick grows bigger and harder in her hands and the more she tugs it, the closer he gets to the point of nutting until he unleashes his thick load all over her, drenching her glasses. Clearly one session is all this horny dude needs.