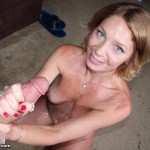 Harley Summers can't cook to save her life but her lust for Pike's man goo more than makes up for her lack of any kitchen skills and when she approaches him to milk some man juice out of his cock in this new episode from CumBlastCity.com, he happily lets her. Her cock jerking skills are impeccable and unmatched by any other woman and she works harder than any cum slut to get every last bit of cum out of the erect prick. Her hard work pays off when Pike drenches her from neck to toe with his creamy seed.
If there is one thing Harley Summers is confident about, it's her cock tugging skills. The blonde cougar knows she can milk any cock and make it burst with just her hands and since she really could use a cum bath, she decides to milk Pike's big cock until she gets exactly what she wants. She finds him relaxing out in a chair and decides to pleasure him right there and then by pulling his cock out of his short and caressing it until it hardens and then she's off to tug-world.
She wraps her fingers around the sensitive head rubbing off the pre-cum as she massages his big balls and then she works the big prick from head to base and back with just one hand first before using two hands to really get Pike going. The pressure from the two-hand stroking is what does the hung stud in causing his balls to tighten right before he shoots out a load coating every inch of Harley Summers's body!