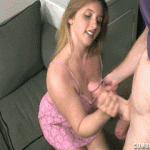 If laundry rooms are strictly for doing laundry, Raina didn't get that memo because instead of washing her clothes, the busty teen stunner turns the laundry room into her own personal playground. While her clothes lay forgotten in the washing machine, the slutty teen goes to town on a huge pecker. She uses a one hand stroking technique most guys around her town are familiar with, to bring her fuck buddy to the edge and even though she's the one in charge of this particular show, he gets the last laugh when he blinds her with his insanely huge load.
Busty hottie Raina has a reputation as a handjob slut in her town. She'll wank off any one to get her cock fix. She especially gets a kick out of tugging Joey's prick because he always gives her the biggest cumshots so when he corners her in the laundry room, the naughty teen is only too happy to abandon her dirty clothes and focus exclusively on milking his dick. Given how tense he is, this is one guy who hasn't had a proper milking in a while so Raina has her work cut out for her but she's more than capable of sealing this deal.
She starts by pressing the thick prick from the bottom to the top and then she rubs it feverishly until it hardens to the max. When it can't get any harder, Raina gets down to the serious business of coaxing cum out of it with her hands. She may be just a teen but Raina is pretty darn good with her hands and it doesn't take her long to make Joey's cock erupt! The best part of this video though is seeing the top heavy teen's face and tits covered in thick man goo.