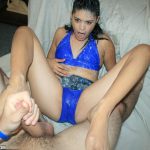 Cute teen Amo just wants to have some fun which is how she ends up in between some lucky dude's legs with his cock firmly in her hands. He's expecting just a tugjob and a quick release but she has something even better in mind. The slutty chick starts off with a simple handjob but then switches to a foot fuck frenzy that sends the horny dude right over the edge. He underestimated just how good this teen babe is with both her hands and feet but as this video from CumBlastCity.com shows, hooking up with her is the best decision he's ever made!
Amo doesn't waste any time getting this party for two started. She immediately wraps both hands around the big dick and strokes it real good until it gets as hard as it'll ever get. Then she looks seductively up to her fuck buddy as her mouth meets his throbbing dick. She spits on it and rubs her saliva into the prick and then a sly smile flashes across her face as she slides back on the floor and brings her sexy feet up on both sides of the cock.
She may be much younger than her partner but she's clearly given a few footjobs before because her delivery is flawless. Her legs move up and down the length of the shaft in perfect harmony and she even uses the tips of her polished toes to press deep into the most sensitive spots on the dick. Amo truly shines when she's feeling confident and she's never felt as confident as she does when she's using her feet to milk her man's big dick. To really get the lucky man's engines going, the dark haired babe uses a handjob and footjob combo which sends him over the edge causing him to soak her whole body with cum!