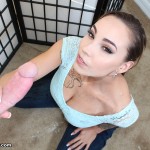 Every girl has a fantasy and for Sasha Foxx that fantasy is to be soaked in cum. Lucky for her Flynt hasn't jerked off in weeks and he's got an overload of semen just waiting for be splashed on a willing female. The two hook up for a sensational handjob session in this new episode from CumBlastCity.com and when its all said and done, the gorgeous brunette with massive tattoos all over her body is drenched in thick man goo! The joy on her face is very evident as her horny man drips every last bit of cum all over her.
Cum craving chicks are hard to come by but Flynt has hit the jackpot with Sasha Foxx because she's not just incredibly hot but she's horny as fuck too and she craves cum more than anyone else. She longs to be bathed in creamy jizz and Flynt is just the man for the job so he whips out his cock and watches her grab it and stroke it as she sinks down on her knees. He's towering over her as she jerks him off which means he gets an eyeful of her cleavage as she works his cock with both her hands.
This babe is really good with her hands and she effortlessly switches from jerking Flynt's prick with two hands to using just one hand as she begs him to ejaculate on her and since he's such a generous gentleman, he points his erect dick at Sasha Foxx and unloads all his thick semen all over her, granting her wish and drenching her whole body with cum!