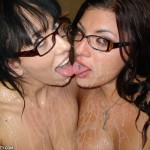 The only job Joey needs, according to his tee shirt, is a blowjob and he's about to get not just one but an insane double blowjob in this episode of CumBlastCity.com. He hasn't jerked off in months and really could use a good vacuum cleaning and emptying of his cock and balls so he enlists the help of his two hot MILF neighbors who are professionals at tugging and sucking cock. They happily oblige him and suck his cock hard until he ejaculates all over their bouncy tits and bodies!
Two sexy MILFs with a penchant for sucking cock is all an orally-starved man could ask for and Joey is super lucky because he just happens to live next door to two such nymphos. Alexandria Silk and her friend Alia have heard all the tales about Joey's massive cumloads but they've never been fortunate enough to experience them until today when he calls them over for some handjob and oral fun.
The ladies get down to business massaging his hard cock and smiling from ear to ear as they watch it harden in their hands. Then Alia begs Joey to cum all over her face but since nothing is for free, getting his cum load is going to take some work on both ladies' part! The two ladies immediately get to work on the big prick, tackling it as a team with Alia sucking on one side and Alexandria Silk sucking the other side. They cheer each other on in their effort to make the lucky stud burst a nut and their hard work pays off big time when Joey extends his cock in their faces and shoots out a monster load of jizz completely drenching both ladies!