Memo to dudes: if you're going to send dick pictures, you better make sure that's exactly what your dick looks like in person. Fortunately, this isn't an issue for the hunk meeting up with Alexandria Silk. The two perverts first cross paths online and then keep their electronic lust going with nude selfies and even video sex. She likes what she sees. He likes what he sees too so they decide to meet up in real life. As this video from CumBlastCity.com shows, the duo doesn't have time for small talk. They say hello and then immediately rip each other's clothes off.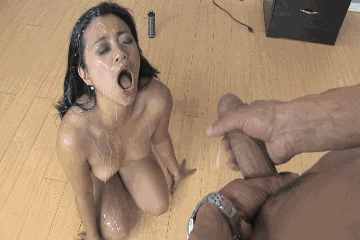 Alexandria Silk knows first hand just how much cum her fuck buddy can shoot out and she wants him to make it rain all over her tiny body. She can't hide her excitement at the size of his dick and she excitedly polishes it with both hands as she compliments him on it. This hook up is definitely off on the right note. The two of them are a perfect fit. He likes to get his balls played with so that's what she does. The pint sized cock sucker gets turned on by accents so he speaks with one. He even says a few words in Spanish just to get her wet. It works!
Her pussy is so wet that Alexandria Silk can't just ignore it. She spreads her legs out and feverishly rubs her slit while sucking off her fuck buddy. She's a heck of a multitasker! The big dick is turning her on so much that imagining it inside her makes her thighs shake uncontrollably as she cums. As she orgasms, her fuck buddy crams his dick in her mouth and fucks her throat until he's ready to cum himself. Then he aims his dick at Alexandria and unloads a river of jizz all over her tiny body!