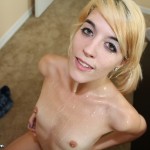 Some girls dream about becoming doctors or lawyers but Brandy Jaymes' ultimate fantasy is to turn into a human spunk bucket for her best friend Ben. She's harbored a secret crush on him for the longest time but the poor guy is clueless about it until this fateful day when the two are all alone in her room and her confession comes tumbling out of her mouth. What happens next is a hook up so steamy that you just have to visit CumBlastCity.com to see it go down for yourself!
Its normal to have a crush on your best friend. Its even normal to fantasize about stroking his cock and if you're Brandy Jaymes, then turning that fantasy into reality is the next logical step which is exactly what the blonde teen with small tits does when she invites Ben into her house. Ben is shocked to learn about her secret crush but he doesn't object to getting a handjob from her so he lays down on the bed as she gets naked and then watches as the petite babe grabs his dick and strokes it.
Milking the cock while sitting on the bed doesn't seem to produce the results Brandy Jaymes wants so she gets down on her knees with Ben's dick pointed in her face and she feverishly tugs it while begging him to cum for her and being the good friend he is, he obliges her by unloading his sack full of creamy cum all over her body! Seeing the hot blonde soaked in cum is a sight for sore eyes you won't soon forget.