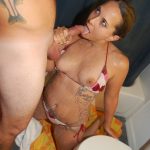 Angel Rose just won't shut up so Billy decides to shut her up by stuffing his cock into her mouth. That's not the only thing he does though as this episode from CumBlastCity.com shows. He also manages to get a handjob out of her in the tiny bathroom that resembles a gloryhole and as if getting blown and jerked off isn't enough, the lucky guy gets to douse the talkative babe with bucket loads of his creamy jizz. Needless to say she's left completely speechless by the amount of cum that shoots out of the dick.
If you talk a lot of shit, you need to be able to back it up and Angel Rose talks a lot of shit she simply can't back up so Billy decides to shut her up by daring her to take his massive load and even though she's disgusted by his dirty challenge, the slut in her is awakened and eager to prove herself to Billy who at this point has whipped his dick out and is boldly wanking himself off in front of the brunette babe.
Being in close proximity with the erect dick gets Angel Rose all worked up and soon enough she's reaching for Billy's cock and tugging it for him before sucking it. She yanks it out of her mouth and spits on it as she strokes it back and forth and her excitement grows as she feels Billy tensing up in anticipation of an explosion but nothing prepares her for the size of the cum explosion that hits her body and soaks her from head to toe!