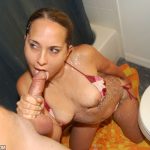 Trash talking leads to a bathroom handjob which leads to Angel Rose being drenched in warm jizz in this episode from CumBlastCity.com. The sexy but very talkative Latina hottie gets suckered into giving Billy a handjob after he boldly declares that she couldn't possibly handle a massive load of jizz from him. Never one to back down from a dare or challenge, the tatted up baby gets on her knees and jerks the conniving man off right on the bathroom floor and he rewards her by ejaculating all over her pretty face and body.
Angel Rose just wants to get herself off and she's a little busy in the bathroom taking care of that when Billy walks in with a hard rod that needs attention. She doesn't pay him much attention until he mentions the massive load capable of coming out of his dick. The mention of massive jizz loads gets Ms. Rose's attention and soon enough, her hands are wrapped around Billy's cock and tugging away in a bid to make him cum.
He's in no hurry to let loose so Angel Rose has her work cut out for her but she's got really impressive cock stroking skills and happily polishes Billy's cock with all her might until he has no option to cum and when he does, he points his dick right at her and showers her with his massive load, just like he said he would!