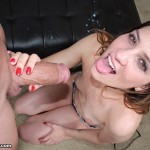 It's no big secret that Pike has got a monster cock but what no one has ever been able to verify is if that big cock releases big cumshots so Lucy Dunne takes it upon herself to find out in this new episode from CumBlastCity.com. The slender brunette teen doesn't even have to pursued Pike much because he badly needs a release anyway so the two of them don't waste time getting naked and getting the tugjob underway. The huge load splattered all over Lucy's pretty face at the end is all the proof she needs!
An innocent flirtation leads to all clothes being peeled off and a handjob on the couch. Lucy Dunne spits on the tip of Pike's big cock and watches as her spit rolls down the length of the shaft. Midway down she starts rubbing it in, squeezing the cock as she works it from top to bottom. Then she gets down on her knees and grabs the thick prick with both her hands tugging it hard as she begs for Pike to release his load.
The poor guy is actively fighting the urge to cum because he doesn't want the handjob to end but he has to keep up his end of this bargain and prove to Lucy Dunne that he's capable of shooting out monster cum loads from his gigantic cock so a few strokes later, he aims his erect cock at her face and lets loose, splashing a huge creamy load all over her gorgeous face and body! This is one of the messiest facial cum shots you'll ever witness!