Imagine throwing a BBQ party for tons of guests only for the grill to start acting up. That's what happens to William in this hot video from CumBlastCity.com. He's frustrated beyond words and that's the exact moment Kandi Hart walks in dressed in her naughty schoolgirl outfit. She can tell the poor guy could use a distraction so she lifts her short skirt up and invites him to rub her shaved pussy. William can't resist the lure of the pussy in front of him so he ditches the grill and makes his way over to Kandi.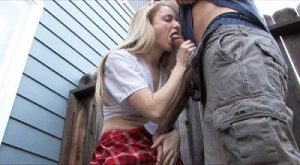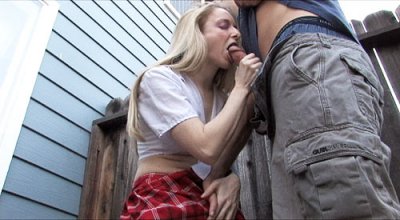 The horny duo immediately get down to doing the nasty. He dips his fingers into her wet snatch and she reaches into his pants for his cock. Its already hard so there isn't much left for her to do besides pop it into her mouth and suck it, which is exactly what she does. All this happens out in the backyard with just a short privacy fence acting as a barrier between the orally fixated couple and their neighbors. They could get busted any second but they don't care.
All they want to do is satisfy each other. Kandi Hart drags William into the house where she immediately gets naked and rubs his dick all over her body. She crams it in between her tits for a sensual titfuck that has the horny guy moaning. That's just a taste of what this slender cutie is capable of doing. Next, she mounts William and slides her pussy up and down his cock without letting him penetrate her! This drives him over the edge, causing him to explode all over Kandi's beautiful face!