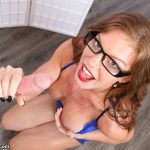 Ivy Secret is a talker. This hot MILF wants your big cock real bad. She wants to milk it until it explodes and she wants that cum all over her. She wants you to fuck her tits. She also wants you to know how much playing with your cock turns her on. The super sexy, glasses-wearing hottie is very vocal but as this brand new video from CumBlastCity.com shows, she's also insanely good with her hands. She uses them to work your cock up and down until you give her exactly what she wants.
For Ivy Secret, making you cum is her mission of the day. She's also one of those women who wants to make you feel wanted at every point of your journey together so she looks straight at you and says all the right things at the right time. Her mouth does almost as much moving as her hands! She's such a good multitasker though that she doesn't even break a sweat as she passes your cock from one hand to another while telling you how much she desires you. Hearing all these sweet dirty words from her pushes you closer to the edge.
She can feel you tensing up as you prepare to explode so she lubes your cock up some more and then pops her titties out of her one piece. She asks if you like staring at her tits while she jerks you off and the moan out of your mouth is the confirmation she needs. Ivy Secret knows you're so close to the point of explosion so she tugs your cock faster until you soak her with your creamy load!