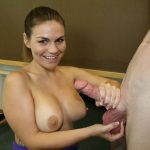 Joey's big dick is legendary in town. Cameryn Cox has heard tales about just how big it is and how much cum it shoots out. So she goes on a fact finding mission and as this video from CumBlastCity.com shows, she gets the answers she wants and then some. The two should be out washing cars with everyone else but they sneak off to the classroom for privacy and that's where Joey unleashes both his cock and his load on the very impressionable teen.
Curiosity may have killed the cat but it pays off big time for Cameryn Cox. Word around town is that Joey is packing a huge dick in his pants and she wants to find out if its true. She massages his dick through his shorts and that preview confirms the rumors she's heard. Seeing it in the flesh though is a whole different story. Her eyes almost bulge out of their sockets when Joey pops the dick out of his pants. The horny brunette teen immediately gets down on her knees and fondles the big dick. She gets so turned on by it so she reaches for her lube and slathers it all over the dick.
The more Cameryn Cox rubs the lubrication into the dick, the more turned on she gets. She begs Joey to cum for her but he wants to shoot his load on her tits so the obedient teen slides her straps off her shoulders exposing her perfect tits. Now she's really ready for Joey's load. A few strokes later, he's ready to give it to her. She thrusts her rack forward and just like he promised, Joey blasts her boobs with his insanely huge cum load!