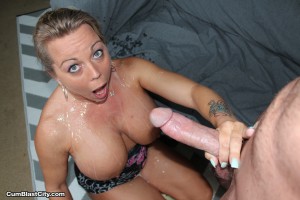 Here's a cheat sheet on what makes Amber Bach happy: give her your load. This busty babe craves your jizz more than anything in the world so when she gets a chance to wrap her hands around your dick, she only has one mission and that's to milk every last drop out of you. She's definitely good with her hands so it doesn't take her long at all to make you cum. Her only problem however, is that she doesn't realize just how much cum you have in your balls!
Amber Bach is a straight shooter. When she hooks up with you, she gets straight to stroking your cock. She teases the tip of your cock with her finger tips and tells you exactly what she wants from you. This top heavy cutie wants all of your jizz and to do that, she alternates between a one hand stroke job and two hand tugjob. She pops her gigantic tits out of her strapless dress so you can ogle them while she works her magic on your long hard dick.
The whole time Amber Bach is wanking you off, she tells you how much she loves your dick and how badly she wants your load. This dirty talk pushes you closer to the edge but its her persistent excellent stroking that pushes you to the brink of a release. When she senses how close to letting go you are, the big tittied babe increases the pace of her stroking until you nut all over her. Watching her choke on your humongous load of cum is priceless.