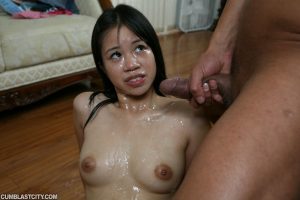 Gringos love to hook up with Asian chicks. That's just a fact. Mr. Banderas is no exception to that rule so when he meets Asia, he happily whips out his gigantic uncut cock so she can play with it. The pretty asian fuck slut has seen gringo cocks before but nothing as big as this one but if she's intimidated by it, it doesn't show. She instead pounces on that dick and rubs it ecstatically while spitting on it a little more often than most girls would. This tiny babe doesn't know it yet but the hung man has a massive, blinding surprise for her brewing in his balls!
All Asia wants to do is read her magazine in peace but Mr. Banderas is horny as fuck and ready to play. So the tiny babe puts her magazine to the side and pulls her top down as the older man licks her all over. He reaches in between her legs and fingers her snatch through her jean shorts and then he lowers his own pants so she can get to work on him.
Spitting is Asia's thing and she's more than generous with her saliva when it comes to Mr. Bandera's dick. She spits on his dick and his balls and then moans as she rubs her spit into every inch of them. Then she begs the big dicked guy to cum for her and as if on cue, he aims his dick in her pretty face and unloads all over her. He hasn't nutted in at least three months so he's got a ton of cum in him and he empties every last drop of it on the petite Asian babe!