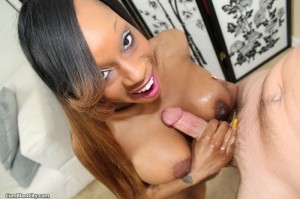 Can you jerk a dick with a mouthful of balls? Caramel Starr can. In fact this ebony stunner is so good at multi-tasking that she even talks dirty while jerking off her man in the reverse cowgirl position. Its no wonder that the lucky stud ends up rewarding her with a huge nut. But in order to get that nut, this slutty babe really has to work for it but she's not afraid to put in the work as long as she's guaranteed a reward at the end. What she doesn't suspect is how big of a reward she's about to get!
Caramel Starr knows she's got a bangin' body and she loves to sensually tease her man with it. He calls her over to where he's seated but before she approaches his chair, she suggestively touches her body and then bends over and dips her ass low before bringing it back up. The black seductress then parts her ass cheeks and gives her man a glimpse at the meaty clit peeping from the front. She already knows he wants her but she asks him if he does anyway and when he says yes, she moves to where he is and grabs his dick.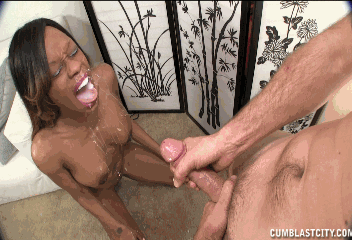 Any other girl would kneel and stroke the dick but Caramel Starr squats over it and tugs it while simultaneously rubbing it on her fat clit. Then she rubs her dark chocolate pussy all over her man's big white cock. Sensing how close he is to explosion, the sexy black nympho slides to her knees and swallows his balls while still jerking his dick. This pushes him over the edge causing him to flood Caramel's face with a monstrous load!