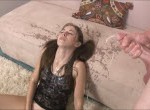 Autumn Winters is feeling hornier than ever in this episode from CumBlastCity.com so she invites her friend Joey to help her take care of her needs but apparently he doesn't get there fast enough because the slutty brunette spreads her legs on the carpet and starts flicking her bean in a bid to get herself off. It's in this position that Joey finds her and instead of interrupting her, the stud gets naked and joins her for a masturbation session where he beats his own meat until he explodes all over her!
There is something hot about watching a woman masturbating and something equally hot about watching a man stroke his own cock but there is something distinctively hotter about watching both those actions happening at the same time like in this intense masturbation video where Autumn Winters plays with her clit and fingers her wet pussy while Joey stands over her jerking himself off. The duo seem like they're competing to see who will get off first but they do it so uniformly, you'll get off just by watching them in action.
The further Autumn Winters pushes her fingers inside her warm twat, the more turned on Joey gets and the faster he wanks his cock which in turn makes the brunette teen rub her clit even more furiously. This vicious cycle repeats itself over and over again with the masturbating beauty begging her friend to cum all over her and he doesn't disappoint because the second he gets ready to nut, he stands directly over her, aims his erect prick in her face and empties his cock all over her pretty face and body.