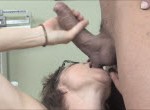 Its that time of the year for Billy to get his annual physical and he always looks forward to it because it's also a chance to flirt with his sexy nurse. She looks forward to his visits because it's one of the very few times she gets to unleash her inner slut and today is no different because the minute the young man sets foot in the doctor's office, Lucky Starr is all over him and especially all over his big boner, jerking and sucking it until she gets blasted with jizz.
If you have a nurse fetish, you'll love what this CumBlastCity.com episode has to offer because its set in a doctor's office and it features a stunning nurse who just happens to be really good with her hands and mouth. Her oral fixation is reserved for a few select patients and Billy just happens to be one of them because the minute he gets naked, she goes down on him and sucks his prick so hard, he almost explodes right there and then.
Lucky Starr is not just a one-trick pony though and she proves this by taking Billy's balls and gently nibbling on them before sucking the heck out of them all while wanking him off and then she focuses on jerking his prick while begging him to cum for her. The older babe doesn't know it but he hasn't had a release in forever and he's eager to leave his mark on her so when he gets ready to ejaculate, he points his dick right in her face and shoots his man goo all over her face and body!