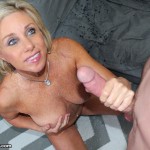 If you thought guys are the only ones who pay to play, you obviously have never met Payton Hall. The blonde cum craving MILF is so desperate for a cum bath that she's willing to pay Tom to jizz all over her. Fortunately for her, he just lost his job and is desperate for some cash so the two strike up a deal in this episode from CumBlastCity.com where the hung stud gets a handjob from the busty MILF and some cash and in return, he bursts his nut all over her.
Its hard to determine who's getting the better end of this deal. On one hand, it seems like Payton Hall gets the better end but on the other hand, it seems like Tom definitely comes out ahead here but you be the judge as you watch this cock tugging and cum blast episode where Tom approaches the older blonde babe seeking a loan and instead of having him sign a repayment plan or work off his debt, she agrees to give him money as long as he cums all over her.
No man in his right mind would ever turn down such a deal so off come Tom's pants as he spreads his legs wide open on the couch and watches the experienced handjobber go to town on his big cock. She strokes it with two hands and then pins his legs down with her own legs and she rubs and tugs the hard cock faster and faster in a bid to make it burst. Once she senses him tense up, she slides onto her knees before him and continues jerking him off until he cums all over her. So she gets her cum fix and he gets a drained cock and cash, that's a total win for both of them!