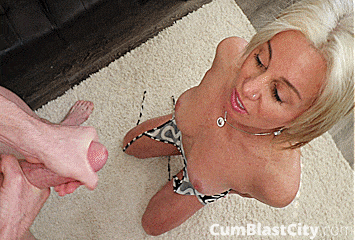 Nothing says I love you like a handjob after getting your butt kicked at the gym. Payton Hall knows this which is why she gladly gives her man a handjob workout when he returns home from working out. There is no scientific evidence that this is the best post workout treatment but that doesn't stop Mrs. Hall for administering it anyway. In her mind, she knows and firmly believes that its the only workout her man needs and as this hot video from CumBlastCity.com shows, by the time she's done with him, he agrees wholeheartedly. And why wouldn't he? He just got his dick and balls drained by a hot skilled MILF!
Payton Hall knows exactly what her man needs to get his mind off his tough workout. She slides on the couch next to him and makes small talk as her hands wander over his crotch. He reads her loud and clear and his dick hardens some more each time she touches it suggestively. His hard-on presses against his shorts threatening to rip through the fabric which is the sign the hot mature blonde needs to get to work so she frees the big dick from its confines and starts to slowly stroke it.
She knows she's doing something right when her man throws his head back and digs his nails into the couch. So, Payton Hall increases the pressure on the dick and cups her man's balls with one hand as the other hand strokes his dick head. His cock is too big for her hands but the horny babe is an expert cock tugger and she uses her skills to hit all his sweet spots. She squats to the floor, bringing his big dick to her face level and she continues tugging it in this position until it bursts, drenching her in a thick coat of jizz.