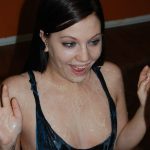 All Brandi wants to do is fuck herself with her giant vibrator so she spreads her legs on the couch and starts tickling her already moist cunt with the vibe but her solo fun quickly gets interrupted by her neighbor. You'd think the interruption would make the horny teen mad but she's rather pleased to see the stud and she's particularly happy that he's already got an erect boner in his pants that she can play with. As this sizzling hot video from CumBlastCity.com shows, the sweet brunette not only gets to play with the man's dick but she also gets drizzled with his jizz until every inch of her body is covered in his man goo!
A real, live penis beats a sex toy any time of the day but Brandi knows that she can have both if she wants to. She's already working her clit with her vibrator but she's got a free hand available which she uses to tug the big boner that her neighbor thrusts in her face. Multi-tasking is nothing new to this brunette teen slut but masturbating while jerking off a guy gets tiring soon so she switches all her attention to the lucky guy's dick which she grabs hard with both hands and strokes while smiling.
She's thirsty for cum and she shamelessly begs her neighbor to cum for her and all over her but what she doesn't know is that he hasn't had a release in ages and he's got a massive load backed up in his balls. He's just been waiting for just the right time to expel the load and when Brandi strokes his cock just right, a monstrous load comes gushing out, soaking every inch of her flawless skin.