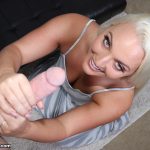 Who goes three whole months without having sex with her man? Macy Cartel that's who! But lucky for her she finally gets some sense and decides to immediately rectify the situation as this new video from CumBlastCity.com shows. Her man is game for some action even though he reluctantly pulls out his rod but as soon as the bleached blonde hottie starts playing with it, all his senses awaken and he's suddenly engaged in the whole process. He has months worth of cum backed up in his balls and he's very eager to release the whole load onto his unsuspecting girlfriend.
Since Macy Cartel likes to be in charge, she takes control of this show by reaching down and massaging her man's crotch area as she prepares to make entry into his pants. He slumps back in the chair and totally surrenders to her and this is the signal that gives her the courage to spring his dick out its confines. The horny babe can barely contain herself as the big cock comes to life in her hands. She pumps it a few times and smiles as it hardens with each pump.
Macy Cartel's focus shifts to the throbbing head which she rubs feverishly, sending her man's hormone's into a frenzy. He's ready to burst a nut but she's not quite ready for him to cum yet. She wants to make up for lost time so she slows down her stroking and then slides down to the floor bringing the dick to her eye level. Then she grabs it with both hands and twists and turns with all her might before handing the ready-to-explode dick back to her man who aims it right at her and drenches her with his monster load.