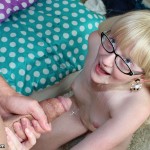 Even nerds need a cum bath every now and then and as this new episode from CumBlastCity.com proves, it's Krystal Orchid's turn to be on the receiving end of a rather huge cumload. The smiling nerdy teen nympho is such a trooper though and doesn't shy away from being splashed with the cumload of biblical proportions but that is only after she's had her fun playing with the cock!
Jeremy walks in on a naked Krystal Orchid and to say things are awkward and tense between them as a result of this would be the understatement of the year. She decides to do something unconventional to lessen the tension level and that is giving Jeremy a handjob. What he doesn't know is that she is very talented when it comes to jerking cocks and what she doesn't know is that he hasn't had a release in so long and he can't wait to surprise her by unleashing a monster amount of jizz on her.
The nude teen blonde bimbo kneels in between Jeremy's legs and grabs his meaty cock with one hand while the other hand reaches for his sensitive mushroom head. She starts off slowly and gently, taking her sweet time as she gets him off with her sensational tugging. When his dick gets used to her gently stroking, she switches to a firmer and fast two-hand technique that has Jeremy squirming and it must be so good because he bursts his nut drenching the beautiful nerdy babe!