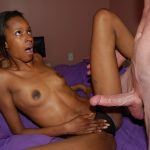 Be careful what you ask for because you just may get it. This is something Stephanie Raines learns the hard way in this video from CumBlastCity.com. The gorgeous black babe wants to feel cum slathered all over her beautiful black skin so she jumps on her man and dry humps him until his dick gets hard. Then she jerks him off and sucks his big white cock real hard before she finally gets around to asking for his load. Actually, she begs him to nut all over her and that's exactly what he does!
Stephanie Raines knows that the easiest way for her to get what she wants is to give her man what he wants. He wants a handjob so the slender cutie slides his zipper down and takes possession of his rock solid big dick. She's obsessed with Joey's dick and playing with it turns her on as much as it turns him on. She tenderly strokes the sensitive part of his dick head with one hand as the other one sneaks down to his balls. The talented handjobber hits Joey's sweet spot because he moans and tells her how good her stroking feels.
Jerking him off is just the tip of what Stephanie Raines has in mind though. She wants to get every last bit of cum out of his balls so she brings her mouth to his pulsating dick and sucks it hard, drawing him even closer to the edge. Joey can feel himself about to nut and when Stephanie spreads out on the bed and tells him to shoot his load anywhere and everywhere on her flawless body, the lucky man obliges her by nutting on her face and whole body!