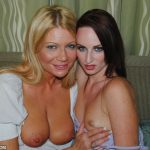 Sometimes being a peeping Tom pays off in spades. That's the case with the perverted dude in this video from CumBlastCity.com. He's laying in bed, minding his own business as he waits for his girlfriend to get home when her two roomies walk into the room next door and start making out while caressing each other. Any heterosexual male would be turned on by this so naturally, the guy's dick shoots up so he starts wanking himself off! The girls spot him masturbating as he watches them so they decide to put on a show for him.
And what a show it is! Audrey leans into Christina and massages her bouncy titties while Christina caresses Audrey's long legs. They're both wearing very short shorts which make their pussies easily accessible so they take turns rubbing each other's twats. The more their hands wander all over each other's bodies, the faster their uninvited guest beats his meat. He can feel himself getting closer to a release so his eyes remain fixed on the ladies as they explore each other.
Even though Audrey and Christina are so lost in each other, they still sneak peeks at their lone audience member. They giggle as they watch him masturbate and then continue passionately kissing and fingering for his viewing pleasure. Their giggling turns into pure shock though when the perv shoots such a massive load that it drenches the entire door!! Now this is something the ladies will be talking about for days to come!