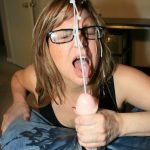 Yes, cum a lot pills are a real thing as Frankie Rae discovers when she goes snooping into Billy's room. She's stunned that a man as young as Billy would need cum pills but she's also very curious to see if they work which is why she makes him take his pants off in this video from CumBlastCity.com and she goes to town on him, stroking that big dick hard until it explodes in her face. Watching her stunned expression as a load of cum soaks her glasses over and over again will turn you on big time!
Frankie Rae is nosy and that nosiness sometimes leads her to discover things not meant for her eyes – like Billy's stash of cum pills and since she can't unsee it, she decides to tug his cock and find out if he's really capable of unleashing a monster load. She caresses his dick through his jeans and then sneakily pulls it out of his pants through a tiny crack in the zip. Her eyes are fixated up on Billy but her hands are firmly glued to his big dick which she strokes with all her might.
The older babe is desperate to make the much younger man explode so she talks dirty to him while jerking him off and even pointedly begs him to cum for her. Billy is such a good boy who never wants to make women beg so once he hears Frankie Rae begging for his creamy jizz, he lets loose and shoots out a load which lands smack dab on her glasses. Just when she's regaining her eye sight, Billy spurts out another load, drenching her glasses with even more cum. Yes, those cum a lot pills really work!