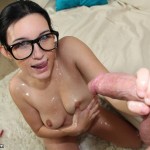 Giving a really good handjob is an art that most women simply haven't mastered yet and one that Moly Bliss is determined to excel at. The teen brunette cutie is a virgin and while she is not ready to go all the way with her boyfriend, she wants to treat him to a special handjob so he can get some much needed sexual relief. The only problem is the sexy teen has never jerked a cock but lucky for her, she has a cousin who is more than willing to let her practice on his big boner. This exclusive handjob practice video can only be watched on CumBlastCity.com
Like most teens who are horny as fuck but aren't ready for a full blown sex session, Molly Bliss wants to make her boyfriend feel good without getting her pussy penetrated and the only way she can do that is by giving him a handjob. Since she's never stroked a dick in her life, she doesn't really have the first clue how to proceed but her cousin Billy is a handjob expert of sorts and he is only too happy to let the teen practice on him.
Molly Bliss unzips Billy's shorts on the couch and pulls out his cock gently tugging at it as she awakens it from its limp state. When the big cock is nice and hard, the teen ditches everything but her big nerdy glasses and spreads her legs wide on the couch giving her perverted cousin a very good view of her shaved pink pussy. With encouragement and pointers from Billy, the sexy babe jacks his knob with her hands, twisting and pumping with all her might until he explodes all over her drenching her glasses and entire body with cum. After this lesson in how to give a handjob, Molly's boyfriend is definitely in for a special treat!