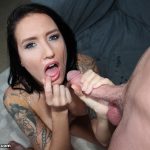 There's nothing more disheartening than watching your man completely worn out from a hard day of hustling but Reagan Lush has the perfect cure for that. When she notices her man completely exhausted from working his ass off all day, she immediately gets on her knees like a good girl and reaches for his cock which she sucks on ever so gently but firmly until he has a monster cum explosion. The look on his face and the way he moans in this video from CumBlastCity.com shows just how effective this particular relaxation technique is!
Sucking cock comes easy to Reagan Lush. Its something she enjoys doing especially when she knows its going to calm her man now. He's tired and she wants to help him relax so she decides to literally suck the stress out of him. No, she's not a magician but she does have a magical tongue and mouth and she puts both to very good use on her boyfriend's hard dick. She doesn't know that he's been saving up his load just for her but it doesn't take her long to find out.
First though, her wet tongue snakes up and down and around her man's throbbing cock, with Reagan Lush inhaling his scent as she tries to get him even more excited than he already is. She goes for the stroking while sucking technique because she knows that's what will get her the results she wants and so she tugs and slobbers all over the big dick while begging for a big pop. She really should be careful about what she asks for because a huge load is exactly what she gets!