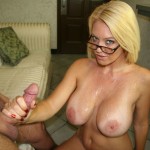 Vic comes over to help Charlee Chase tie up a few loose ends at the office but the busty babe has no money to pay him when he gets done helping her so she offers to drain his big cock for him with her hands and he happily agrees. Before they can get down to the cock stroking though, Vic wants to play with the blonde MILF's legendary 44F fun bags so she slides out of her dress exposing her big juicy boobs and laughs as the horny pervert drools over them in this video from CumBlastCity.com
Vic wants to do way more than drool over the big titties though – he wants to leave his mark all over them by jizzing on them and the only way that can happen is if Charlee Chase jerks him to completion, something she intends to do anyway. She grabs his erect cock with one hand and lubes it up while stroking it slowly then she slides down to her knees before Vic and watches him beat his own meat before taking over from him.
Stroking his own cock while a hot chick watches feels really good but having the busty blonde babe sensually stroking his man meat feels even better and Vic is relieved to have Charlee Chase waxing his hard pole for him. He points his erect boner right at her big boobs in preparation for an explosion and when the explosion happens, the luck man's creamy jizz lands squarely on the sexy MILF's gigantic 44F tits.