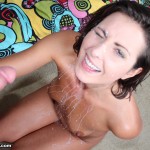 Helena Price is back in town and she badly needs a place to stay because she can't stand living in a hotel room. Her uncle Joe is her only relative in town but he doesn't really feel like having company in his home until the sexy brunette babe convinces him otherwise by jerking off as a way to change his mind. The couch handjob she gives him in this new video from CumBlastCity.com clearly does the trick because the older man changes his mind and lets her stay in his home!
There is no doubt that Joe has a soft spot for his niece Helena Price. He's happy to see her back in town but he's not too thrilled with the idea of her staying with him. She's used to having her way and she knows that a handjob will change the mature guy's mind so she reaches for his thick dick and starts stroking it sensually until it hardens right in her hands.
Then she grabs his shaved balls and juggles them in her hands while still tugging his big cock and she pins her uncle down with one leg giving him access to her bare butt which he boldly fondles while she continues to jack him off. When Helena Price feels the older man tensing up in preparation for ejaculation, she kneels before him and uses both her hands to tug his prick until it explodes all over her sweet face and body.