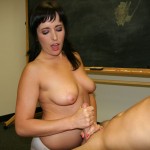 The latest update to CumBlastCity.com contains a brand new video and 26 hot pictures to go with it. Dixie Comet is a bad student and she's about to be punished after class from the handsome young teacher!
Dixie Comet was always getting herself in trouble for daydreaming while in class. She couldn't help it, math was just so boring. The only good part of the class was getting to check out her hot teacher. He was pretty young yet, just out of college it seemed. Dixie thought about him while masturbating at night many times. It would be so hot if he rammed his hard cock into her sweet teen pussy. "Pay attention," the teacher yelled to Dixie! She jumped and giggled which just infuriated the young teacher even more. "See me after class, young woman," the teacher told Dixie.
After class, just like in her fantasies. She knew it wouldn't actually happen, but just the thought crossing her mind was enough to make her pussy wet and tingle. When the bell rang the classroom emptied and Dixie remained seated at her desk. The teacher asked her to come to the front of the room and stand next to him. He slowly looked her up and down, seemingly checking out her hot teen body. Then he asked, "Dixie, would you like detention or an opportunity to redeem yourself?" Of course she didn't want detention so she chose the latter. "I'll give you the opportunity, but this stays between us, got it?" Dixie agreed wondering just what in the world was going on.
He told Dixie to strip off her clothes as he went and locked the classroom door and dimmed the lights. She couldn't believe it, her fantasy was coming true, right here today! Dixie's pussy was now soaking wet and juices were running down her inner thighs. She quickly stripped down to her panties and stood in front of the teacher topless. He instructed Dixie to kneel down and take the cock out of his pants for him. Her hands shaking with excitement, Dixie unzipped his pants and took out his already hard cock. She instantly started stroking it, not needing any encouragement at all.
She twisted her hand up and down as it glided the length of his shaft. Dixie even took his balls into her hand and began massaging them. She rubbed her wet pussy and then used her own juices to lubricate her teacher's cock in her hand. She was giving him one of the best handjobs he's ever had. This hot teen knew how to work her hands and he was ready to explode. To find out what happens next check out the member's section of CumBlastCity.com!